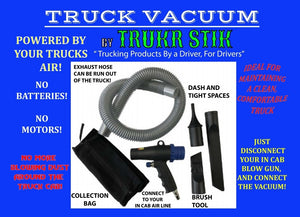 NOW INCLUDES 1 HOSE EXTENSION FOR FREE
💥Perfect for daily maintenance to keep a clean, comfortable truck cab.

💥Fast and Easy setup takes only a few minutes!

 Trukr Stik Truck vacuum Cleaner

Trukr Stik Truck Vacuum is powered by your trucks in cab air line. Great suction, and fast simple installation. Use the easy empty collection bag, or run the exhaust hose directly out of the truck. Available at Trukrstik.com.
INCLUDES:

Male and female Quick Connects
Thread tape for installation
Main Vac Unit
3 Attachments designed for use in truck cabs.
Easy empty collection bag, and butterfly clamp to hold it on.
Installation instructions
Check out our Facebook page for videos and more product information:
WWW.FACEBOOK.COM/TRUKRSTIK/